Litmus Theatre re-imagines classic stories in surprising spaces.
Litmus Theatre is a Dora Award-winning indie theatre company based in Toronto, Canada. Known for such hits as Matchbox Macbeth (Now Magazine "Top Ten Play of 2010"), Birth of Frankenstein (nominated for four Dora Awards, winner of Best Indie Director), and Brave New World (nominated for 7 My Entertainment World Awards), Litmus Theatre creates intimate and surprising site specific shows. Having produced plays in ramshackle sheds and Ladies' Parlours in gothic churches, Litmus has developed a unique methodology for building a show around a unique space – clashing classic stories against forgotten spaces in this beautiful city.
 In Development:
Litmus Theatre is currently in development for a new adaptation of J.M. Barrie's Peter Pan stories. Jordi Mand has been commissioned as playwright.
 Meet the Co-Artistic Directors:
Adriano Sobretodo Jr.
Matthew Thomas Walker
Claire Wynveen
Company History: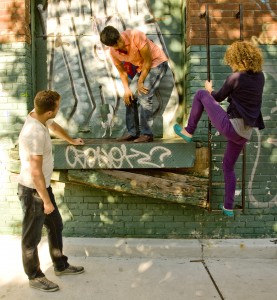 In 2010 Litmus Theatre produced its debut production Matchbox Macbeth, a ramshackle, back-alley retelling of the Bard's classic. The show ran in October of 2010, and due to overwhelming demand was remounted in October of 2011. Both runs were completely sold out and received numerous glowing reviews including being named one of the Top Ten Plays of 2010 by NOW Magazine. Litmus Theatre's second production was Birth of Frankenstein, set in the Ladies' Parlour of St. Luke's United Church.  Birth of Frankenstein was an original script that paralleled Mary Shelley's writing of her runaway hit novel, with Victor Frankenstein's creation of his monster. The show also sold out its entire run, received critical acclaim and went on to be nominated for four Dora Mavor Moore Awards (Outstanding Independent Production, Direction, Lighting and Original Script) of which it won for Outstanding Direction. In 2016, Litmus Theatre premiered it's largest production ever – a full retelling of Aldous Huxley's Brave New World. Co-Produced by arts-incubator Kabin, and with the generous support of Theatre Passe Muraille, Brave New World transformed the Passe Muraille space into the dystipian World State imagined by Huxley in 1932. The show was nominated for 7 My Entertainment World Awards, including for best director and best production.
Support:
Thank you to the following organizations for their support.